WORKING TOWARD THE NEXT HORIZON
If September Labour Day weekend was your last Highland Games, then you've likely had a month of little to no regular practice, and hopefully a good rest from the season! Once October hits, planning is in full swing, lessons are back on, and individuals and bands can be thinking about how they will develop their playing for the upcoming season.
It's a good idea to hang onto adjudication sheets from the season, and this time of year lay them out on a big surface. With highlighter pen in hand, start marking the repeated and similar comments. That will give you an indication of how to approach your practice. "Missed doublings" "note errors in..." "Ds off in slow air" "bottom hand work not clear" "singles rough in ff" "drones off by end" "doublings crushed"
The same applies to bands. You'll find pretty similar themes across your sheets from the season, and this is the perfect time of year to address those areas. Bands and soloists need to set specific, achieveable goals for practices, and in the case of the band, it's good if everyone has the same goal in mind. Break things down, play everything slowly, and keep track of metronome timings so that you can measure progress. If you regularly play your strathspeys at 114 bpm, don't try to improve them at that speed. Work at making them perfect at 60 bpm, and then gradually speed up, keeping all the improvements in place.
In pipe bands, one of the key areas for development over the winter is sound. Too many bands don't bother with it, because "it's winter, dry inside and the pipes never sound good anyway" (or similar, depending where you live). There are so many tools available now for having excellent sound all year, that it really pays to invest in working to get it. If you have a good sopund all winter, you know you'll be ready for grass in April/May. If you just start to worry about it before going outside, you'll still be trying to find it in July.
At Reelpipes.com, we have over 50 years experience, including Grade 1 bands across 5 decades, from the 1970s to 2018. We have products and services that can help you achieve the improvements you want over the winter ahead. Feel free to email or call to discuss your needs.
NEW BAND CHANTERS BY MCCALLUM BAGPIPES
Over the past 2-3 seasons, McCallum Bagpipes have been working on a complete re-design of their band chanter. In 2017, a few bands played them with great success, and this jumped forward in 2018 with several top bands across the grades starting to play the chanters. Scotland's Johnstone Pipe Band made the Grade 1 final at the World's, and showed great form in the final. VIDEO HERE Houston's St. Thomas Alumni Pipe Band also played these chanters, and had a great sound in Grade 2. VIDEO
The chanters have comfortable, round holes, a clean top hand, and the bright, McCallum band "boom" you've come to expect. These chanters go well with lots of different reeds, and Johnstone is having good success with G1 Reeds.
Reelpipes.com has a band set of 15 chanters, and we offering them at a special, one-time, introductory price of $150/chanter [minimum 12 chanters]. If you want to make this move, and you need more chanters, we'll offer the remainder at the same introductory price!
REELPIPES & SMALLPIPES WITH NO WAITING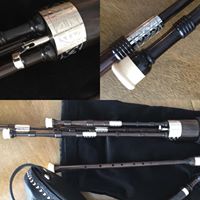 Bagpipes by R.G. Hardie, Strathmore and MacRae are in stock, and we also have Fred Morrison bellows-blown Scottish smallpipes in A and reelpipes. Get these great pipes with no delay!

We're looking forward to more sets arriving in the late autumn, so let us know if you have a set in mind and we'd be happy to get it in the works for you. There is more pressure than ever on bagpipe makers at the moment, and delivery times for bagpipes are longer than they used to be. This has also been a result of the new CITES regulations for exporting blackwood, which has added roughtly two weeks to most shipping times while the UK shippers wait for permits.
Want to get a set going? Get in touch!
FLASH CARDS FOR PIPERS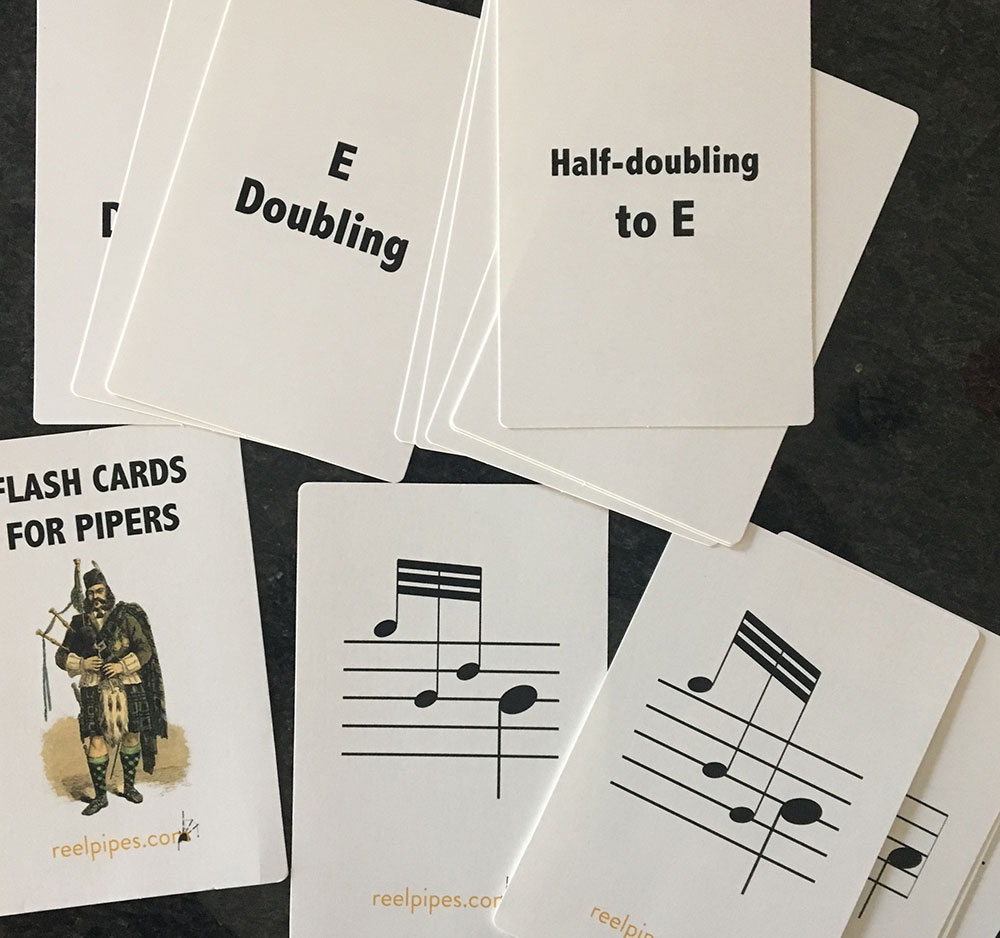 For years, we've used handmade flashcards to help people learn notes, note values and movements, and over the last year we've developed a custom set of Piper's Flash Cards to serve a s a fun learning tool for individuals and groups. Each set comes with 100 cards,covering all the notes, note values, and movements. Theses are great for learning and preparing for piping exams, and they can be used a few different ways.
We have a great stock of practice chanters: the plain black in child, regular and large sizes, as well as coloured chanters, traditional chanters and some fancy, high-end chanters with machine-engraved mounts and blackwood bottoms. We carry tutor books, drums stick and pads.
https://www.reelpipes.com/home/all-parts-and-accessories/product/1502-flash-cards-for-pipers
THE GANDY SOLO CHANTER
Many of you will be aware that the 2018 Glenfiddich Championship will feature a historic "playoff" between renowned Gold Medallist Bruce Gandy and his son, Alex Gandy. Alex won the Silver Star for Former Winners MSR at Inverness this year, and thus earned a berth in piping's most prestigious event, alongside Bruce, who has appeared in the event many times. Both Alex and Bruce are playing the Gandy chanter, which is a McCallum solo chanter made to their specifications, and it's been a very successful year for them and other top pipers choosing to play the chanter. We often have them in stock, although at the moment they are a little hard to keep on the shelf!
https://www.reelpipes.com/home/pipe-and-practice-chanters/product/1446-bruce-gandy-model-solo-chanter-mccallum
WANT EASIER, MORE CONSISTENT AND STABLE SOUND?
THE TONE PROTECTOR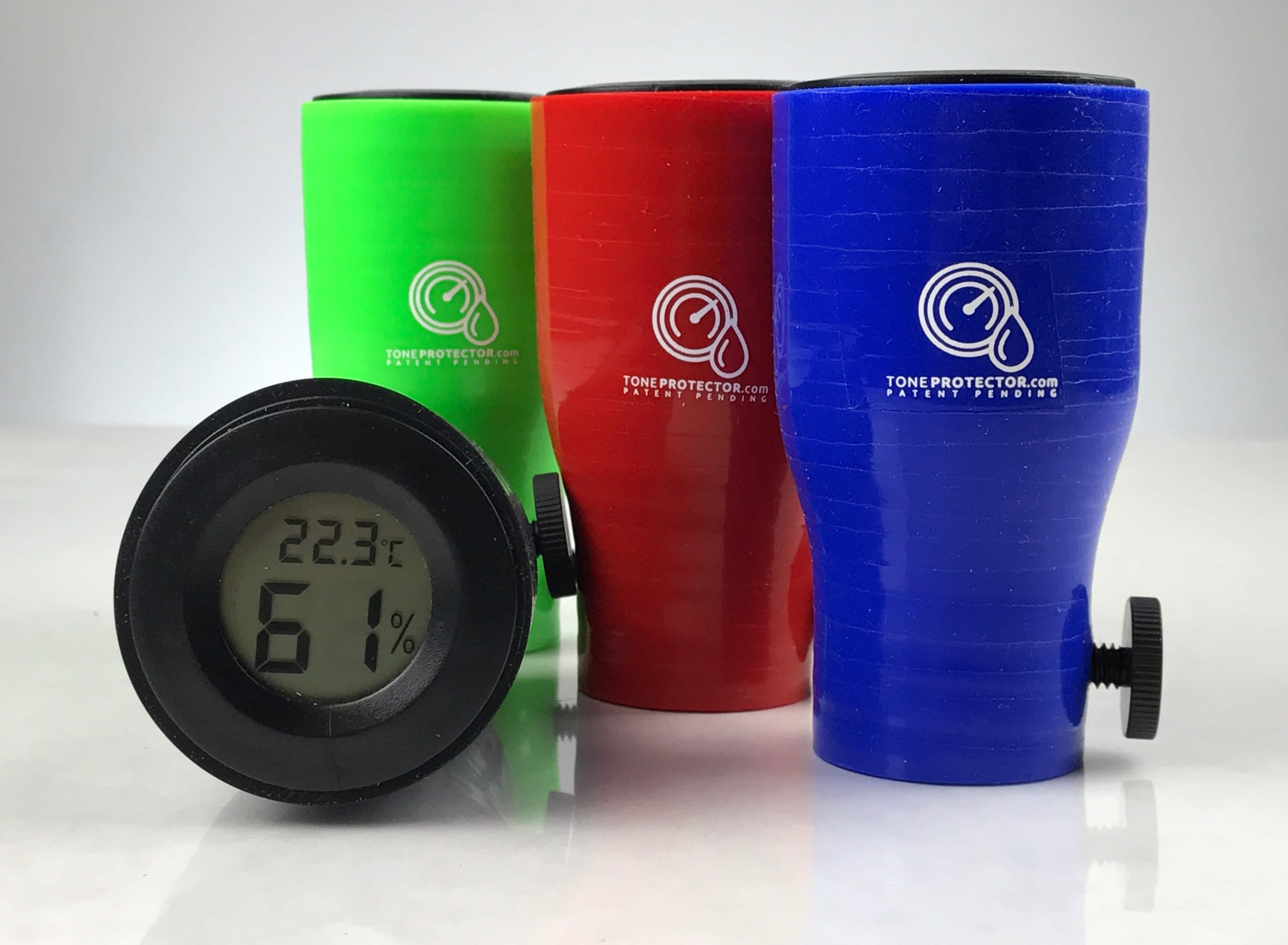 Designed by professional piper Jori Chisholm, this is the world's first digital chanter cap with two-way humidity control technology.
Stabilize your tone and tuning. Protect your reed from changing weather conditions. Get a consistently great sound every time you play. Anywhere in the world. Save money and hassle with reeds that last 3 to 4 times longer. Play more. Tune less.
The Tone Protector has been an instant winner in this environment, and I've found my solo pipes to almost not need tuning. They stay stable for long periods of time, and—best of all—they come out of the case pretty much ready to play...
This product was used by many of the top players and bands in Scotland this past summer. The response has been amazing, and the product is living up to its hype.
https://www.reelpipes.com/product/1441-the-tone-protector

PIPE BAGS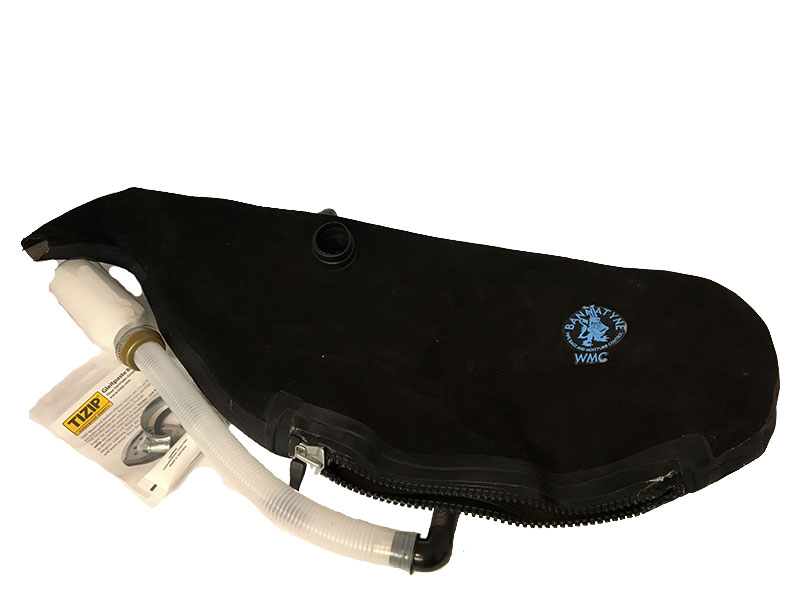 We have a large stock of bags in various sizes by James Begg (sheepskin, cowhide), Bannatyne (most sizes in stock) and Canmore, including the newer Canmore hybrid hide/synth which is a great bag, and the one used by Fred Morrison.
https://www.reelpipes.com/category/35-pipe-bags
• Bellows Pipes Bag - this special bag was designed by Reelpipes.com and made by James Begg for smallpipes and reelpipes. (sizes available: small, regular)
https://www.reelpipes.com/category/35-pipe-bags
DRUM SUPPLIES
We now carry drumsticks by Steven McWhirter, Jim Kilpatrick (KP2) and Stephen Creighton!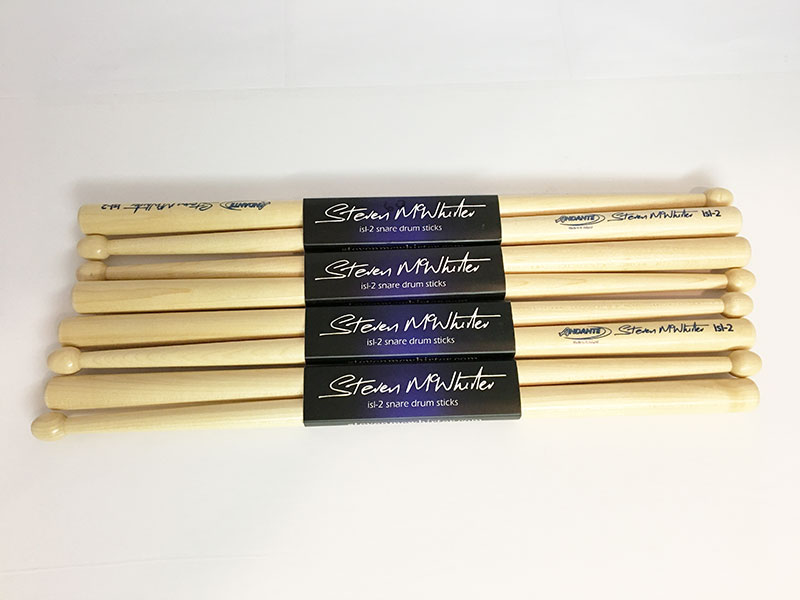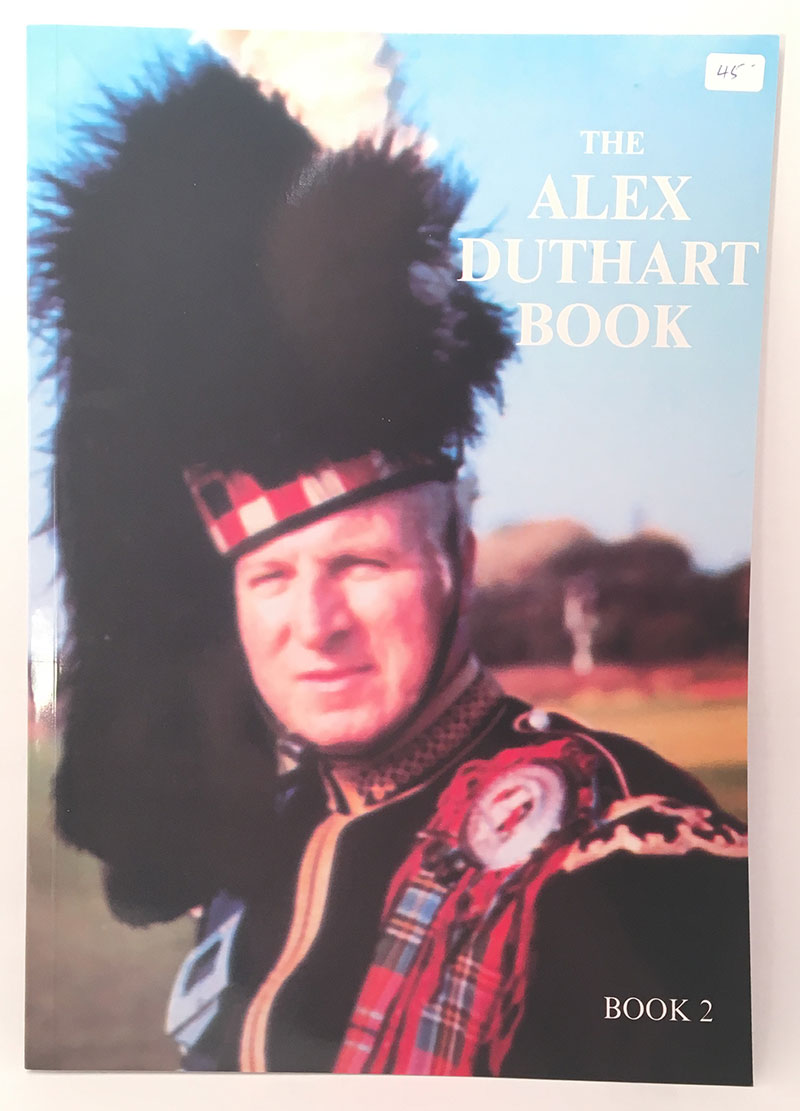 The legendary Alex Duthart's Collection (2 books) has not always been easy to get, but we're making it as easy as possible! These are books that every serious Highland snare drummer needs to own, study and play.
https://www.reelpipes.com/product/1403-the-alex-duthart-book-of-snare-drum-compositions-book-1
We also have starter kits for snare drummers, with an excellent pair of drum sticks and a practice pad.
https://www.reelpipes.com/hikashop-menu-for-categories-listing/product/1405-beginner-drum-kit-pad-sticks
REEDS
• G1 Platinum - This reed is favoured by many bands in all grades for the quality and consistency they deliver, and they go well in a variety of chanters. Played by 2017 Grade 2 North American Champions Rocky Mountain Pipe Band, and Grade 2 medley winners at Pleasanton The Winnipeg Police.
• Chesney - The majority of Grade 1 prizewinning bands play Chesney reeds [Inveraray, Field Marshal, SLOT...] and they do so because they really are good. In our experience, they may be a little harder to manage in dry/high climates, but deliver a broad rich sound when managed well.
• Melvin - Adrian Melvin turned his years of top Grade 1 experience into making chanter and drone reeds, and his reeds are being played by ScottishPower Pipe Band, who have had a superb season. A recent re-tooling/design has made the reeds easier to blow, with the same great sound.
• Troy and MacLellan - JWT Reedmakers and Colin MacLellan both make excellent reeds suitable for solo and band, and you'll find that many of the world's top soloists are playing one or the other.. Need a great piobaireach high G? Look no further.
• DRONE REEDS - Ezeedrone, Selbie, Henderson and Canning drone reeds ready to go!
https://www.reelpipes.com/category/16-bagpipe-reeds
A NEW TUNE
At Maxville in 2016, the band was in the final tuning circle near the fence, and while we were playing, tuning drones, we noticed a small mouse hopping through the circle from the middle to the outside, and then disppeared into the grass. It seemed to be dancing.
IN THE COMMUNITY
Reelpipes.com is proud to support both the Nicol-Brown Amateur Invitational (USA) and the George Sherriff Memorial Invitational (Hamilton, ON) with prizes for competitors. These are both excellent events that showcase some of the top amateur pipers in North America, giving them a very "professional" quality competitive experience. Locally, we are already working on the Highland games for 2019.
Contact Us
Email: reelpipes@gmail.com
Telephone: 306-533-6678